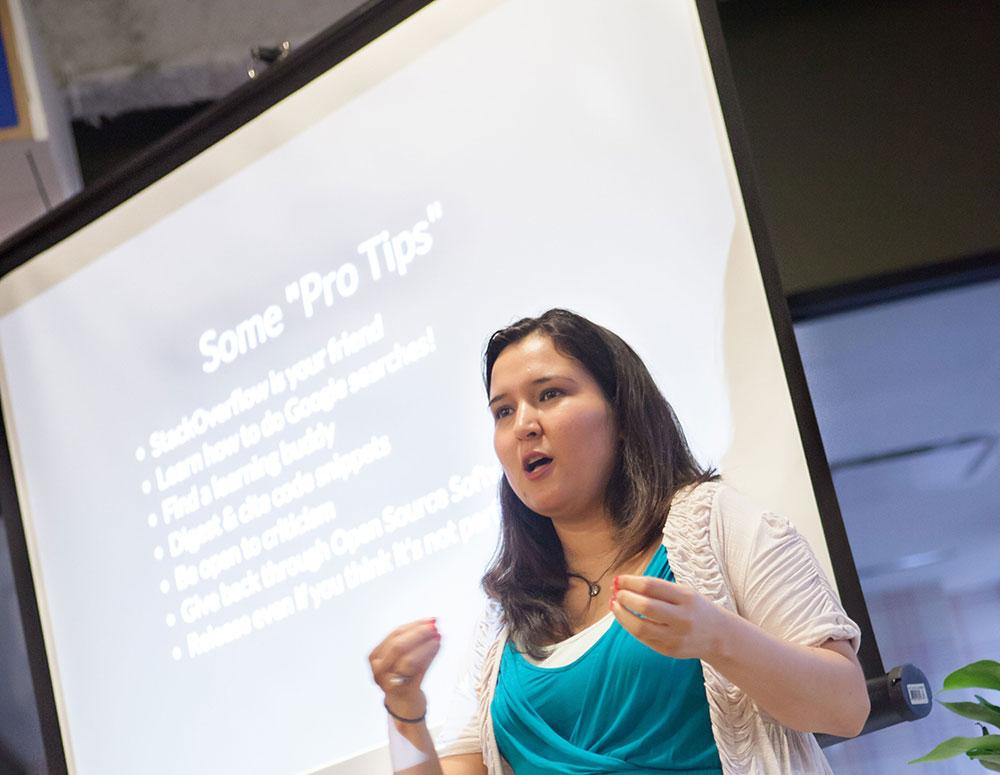 I was recently invited to speak at the NYCDA's "Women in Tech Series". Previously, all the presenters had been CEOs and I'd be the first engineer. It was an exciting opportunity so I agreed!
The week following up to the event, I was feeling incredibly nervous. The format would be 45 minutes of speaking and 15 minutes for Q&A. My longest presentation at the time was for my graduate thesis and that was only 30 minutes. It was a bit of a challenge. If you're ever giving a long talk, I have a few recommendations.
First, make a rough outline. I started with pen and paper but I quickly started running out of space on my notepad. I quickly switched over to outlining in my editor. (yes, I use Coda even when not working – it's already open most of the time!). Include relevant links, quotes, lyrics, images, etc. Keep it visually interesting and try to not make it too serious. You can have a professional presentation while making your audience laugh!
Second, go through the outline a few times (organize it and reorganize it) until you're ready to start making slides. Using Reveal.js to create the presentation slides was very quick and painless – I highly recommend it. As a developer, it's incredibly easy to customize if you're familiar with CSS.
Third, practice. Then practice some more. I can't stress how important it is to go through your entire presentation several times. I went over it by myself, with my boyfriend, and the final run through with coworkers. Even though I thought I'd come up with several points to speak about, I had glossed over some details that I just took for granted. The feedback was essential in polishing the presentation to what it came to be. Saying all the words out loud is good practice for not stumbling upon your words the day of the actual presentation – it also helps with eliminating "um"s and "like"s. You'll have refined your wording and feel a whole lot more confident when presenting.
One thing I learned is that people don't want to see screenshots of your work. They want to see it do the thing. Live demos can be tricky and you may forget what to type while being up there so I highly recommend creating screen captures with QuickTime. This how-to from Apple shows you the steps on Recording Your Screen.
Lastly, despite the preparation, I was nervous before the event. Originally, the expected attendance was 30-50 people. A day before the event, all 300 tickets had sold out! Luckily, about a third of that showed up. Still, this was a bigger audience than I was prepared for. A small tip for dealing with sudden panic? Half a glass of wine or beer. It does wonders for taking off the edge. Liquid courage is a very real thing 🙂
Despite the "Women in Tech" theme, my talk focused on how to get started in tech and becoming a better engineer. I touched upon the topic of being a woman and a minority in tech. More importantly, I wanted the attendees to walk away feeling inspired to tackle new projects. Considering that Q&A had to be cut off due to time limitations, it seemed pretty successful! Several people came up to me after the official presentation was over with so many great questions. It was so lovely to see so many excited future engineers 🙂 Later that week, I saw a couple of Twitter messages about feeling inspired and wanting to tackle side projects that weekend. That made me feel like I made a difference. This was such a good experience and I'm so happy with it.
Feeling super inspired by tonight's #WomenInTech talk by @mellowbeing… Can't wait to tackle some side projects in JS this weekend!

— anna karingal (@annakaringal)
You can view my slides here.
There was an excellent writeup on the NYCDA blog here.